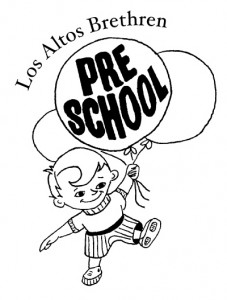 The program of the Los Altos Brethren Preschool was established to provide an educational experience in a warm and loving atmosphere for children three and four years of age. Recognizing the importance of a balanced growth, our staff will provide opportunity for the social, mental, physical, emotional and spiritual development of the child.
Our program was also established as a service to the families and children of the community. This service has grown from a sincere love for the children and a desire to help in the proper development and adjustment in our modern world.
The program incorporates well-integrated opportunities for stimulating all developmental components of the preschool aged child including:
Language and Literacy
Social Relationships/Character Training
Pre-mathematical Thinking
Music
Movement and Spatial Experiences
Art Activities
Bible Teaching and Chapels
More about our philosophy.
Details about enrolling your child.