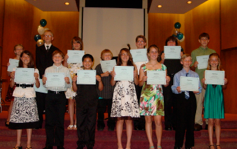 Our graduates are leaders in their educational careers: including 15 High School Valedictorians and 8 Collegiate Presidential Scholars.
Our grads are also well-respected leaders in their professions around the world!
We would love to have the opportunity to invest in your child.


Now that you've read about our amazing kindergarten and elementary school online, we would be delighted to give you a personal tour of our school at your convenience. It's the best way to get a feel for what our school community is like. Please feel free to call (562-430-6983) or email and make an appointment with our school office.
Enrollment process for New Kindergarten Through Sixth-grade Students:
Meet the principal and tour the school.
Complete & return an Application to the office.  Application Student 2019 (PDF) With the application, please provide a copy of your student's 2 years' report cards and scholastic testing results and health/ immunization records. 
Schedule an entrance test. 
Pay the student registration fee and the student is officially enrolled (if there are openings).