Our Enviornment
Los Altos Grace Preschool provides early childhood education for children, three, four, and five years old in a warm and loving atmosphere.
We recognize the importance of balanced growth in the overall process of a child's development. therefore, our staff provides opportunities for the social, mental, physical, emotional and spiritual progress of each child.
Location: 6565 Stearns Street Long Beach, CA 90815
Telephone: (562) 430-6813
Email: [email protected]
School Hours: M-F: 7am – 6pm
Mission & History
Training children through home and school
to know God and serve Him all their days
Los Altos Grace School provides children with a quality education founded on Biblical principles. Our school uses a time-proven, Biblically-integrated curriculum designed to foster the development of the whole child—spiritually, mentally, emotionally, physically, and academically.
This solid academic curriculum is based on a developmentally appropriate philosophy and is aligned with California's state-mandated standards.
Read More
We believe that the Bible has given parents the primary responsibility for educating and training their children. We see our contribution as an extension of the parents' involvement in the nurture, discipline, and enrichment of their children's lives.
Our school has a long and distinguished history of serving the community and of providing a well-rounded education for children. A great number of our graduates have gone on to excel at both the high school and college levels, and have become respected members of their professions and communities.
Perhaps the ultimate expression of our school's success is that former graduates are now bringing their own children to be educated and nurtured at our school. This continuity of school families reflects our intentional efforts to create a family atmosphere at Los Altos Grace School.
Each member of our administration, faculty, and staff strives to relate to every student on a personal basis. All instruction is provided by experienced and dedicated Christian teachers. Most teachers have been part of our school for a number of years, which attests to their ongoing desire to minister to students and their families. Such consistency fosters security and confidence, as well as a school heritage of shared focus and goals.
Los Altos Grace School admits students of any race, color, and national or ethnic origin. We are proud to serve a diverse and wonderful community.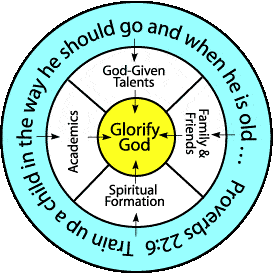 A Word
From Our Director
Our mission is to provide a safe, nurturing environment where children can discover the joy of learning and develop a love for Jesus Christ and others.
Our faculty and staff are committed to providing children with quality education, based on Biblical principles in a loving and supportive atmosphere. We are dedicated to fostering a strong relationship between home and school.
Our school offers a developmentally based preschool program for three, four, and five year olds.
The half-day classroom program can be augmented by daycare between the hours of 7:00 a.m. and 6:00 p.m. two, three, or five days a week.

What Our Families are Saying…
My children have been at this school for nearly 4 years, beginning with the preschool program and now elementary.  I visited, toured and interviewed at multiple schools before this one, and I've been very pleased with my choice.  Not only is the curriculum great, but I also love their approach and how open they are with parents. I feel like my voice is heard and that they take any concerns and handle them appropriately and swiftly.
I have been a parent at Los Altos Brethren for 10 years now. My oldest was a student here from pre-school through elementary and I currently have my 2 other children enrolled in the elementary school. I cannot sing the praises of this school enough! The teachers and staff are kind and caring and the education they provide is exceptional. Our family has been blessed by this school time and time again!
When looking for a Pre-School and Kindergarten for our son, we were referred to Los Altos Brethren School. After having met with the director, we were excited to be part of the the school. We were not overly religious at the time (Easter/Christmas parishioners) and were just looking for a good school for our son. They were fantastic!
The teachers and adminstrators were very caring. The curriculum was challenging, yet they worked with each student to make sure that they were keeping pace. Our son ended up staying through 6th grade. He excelled in Public Middle and High School, and upon graduation was invited to attend the Naval Academy in Annapolis. 
Do what you can. Get your son, or daughter into this school. You will not be disappointed.
Upcoming Los Altos Events & Activities
Stay In Touch
Location: 6565 Stearns Street Long Beach, CA 90815
Telephone: (562)430-6813
Email: [email protected]
School Hours: M-F: 7am – 6pm