Los Altos Grace Elementary
Fifth Grade
Carrie Davenport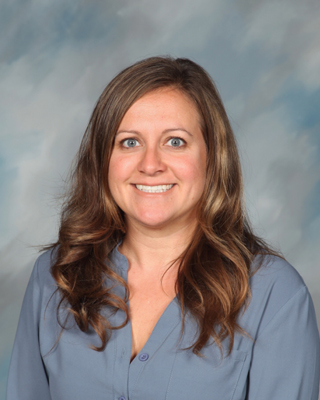 Teacher Biography
Greetings!  I am Mrs. Davenport, the 5th grade teacher at LABS.  I feel honored to have this position.  I knew I wanted to be a teacher when I was in 3rd grade.  I love everything about it-the classroom, the planning, being creative and of course the children!  
I grew up in Lakewood, CA attending Mayfair High School where I played softball.  When I graduated I began an accelerated teaching program at Cal State University, Long Beach where I received my Bachelor's Degree in Liberal Studies and my multiple subject teaching credential.  While I was in college, I also became a college aide at Hudson K-8 School in Long Beach Unified.  I worked as an aide in 1st grade for three years.  I wrapped up college by student teaching at Hudson in kindergarten and 5th grade.  
Upon graduation there were few jobs available, but God had the perfect job in store for me.  At 22, I got hired to teach 8th grade US History and English at Hudson, where I stayed for five years.  I LOVED those 8th graders-even though they were all bigger than me!  During my first few years of teaching I got my Master's Degree in Curriculum and Instruction from CSULB.  In 2010 hundreds of teachers were laid off in LBUSD, and I was one of them.  It was bittersweet, however, because I had just had my twin boys, Cole and Colin and I wanted to be home with them.  While home with my boys, I was able to obtain my single subject teaching credential in Social Science.
I was able to stay home with my boys for a couple years and then God provided another wonderful opportunity for me-teaching from home! I worked for California Virtual Academies teaching home schooled middle schoolers.  What a blessing that job was for me!
Now my boys are in 3rd grade and God has provided another teaching opportunity, here at LABS!  It is such a joy to be back in the classroom!
Aside from teaching, I enjoy spending time with my family.  I am married to my high school sweetheart and a fellow teacher.  Todd teaches 7th grade at Bellflower Middle School.  I love being a mother to our twin boys.  Twins are so fun!!
Most importantly, I have been a Christian since I was 18.  I was fortunate to become a Christian right before entering college.  It was a crucial time as attending a public college made me truly able to defend my faith and really grow in the Lord.
I am so excited to be able to share my love for the Lord and teach at the same time!
In my spare time I enjoy reading, especially about history and politics.  I love attending Bible studies, especially Bible Study Fellowship, which I have attended for the past six years.  I love sports and especially love to watch Dodger games (and go to them whenever possible).  I like to garden, sew and play with my boys.  I enjoy spending time with my parents, family and wonderful friends.  
I feel so blessed to be teaching 5th grade at Los Altos Brethren!
What 5
th
Grade Is All About
We exercise our minds-learning to be critical thinkers, to make arguments and defend them

We refine our reading and writing skills, using them to acquire evidence and communicate our ideas

We explore God's creation through camp and field trips

We read quality literature and learn how to analyze it

We practice glorifying God with our words and actions

We overcome challenges, support each other and exemplify Godly character
My Philosophy
I believe it is essential for students to learn respect, values and a strong work ethic.

I believe it is essential to create a warm, nurturing environment where students feel comfortable taking risks and love to come to school.

I believe it is essential to teach students how to think.  I want them to wrestle with their ideas, know why they believe what they believe and how to defend their ideas-especially their faith.

I believe I need to be an example of Godly character as I teach, motivate and inspire my students daily.

It is my goal in teaching to help produce responsible, productive citizens that contribute in a positive way to our society and glorify God.