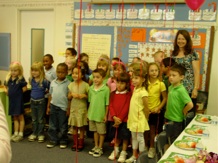 Actually it was the Preschool that started our whole school program here back in 1972. We've always loved those young kids, so we added a Kindergarten first. Our first principal was a Kindergarten teacher for many years. Now we have a tremendous staff, starting with our main teacher Mrs. Haner, teaching these precious children.
For 2015-2016 School Year
Half Day Program 8:30 am – 12:00 pm (1:00pm with lunch)
Full Day Program 8:30 am – 3:00 pm
<< See Daily Schedule 
Tuition is only $5,950 for this great kindergarten program!
Afternoon Enrichment Program can be optional (even on a daily basis) however there is no reduction in tuition.
Daycare options before and after school for those families who need it ($3 per hour as needed from 7:00am – 5:30pm).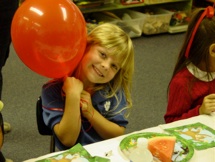 Academic Standards through Developmental Education
Our school offers a developmentally based Kindergarten program with a rich variety of experiences and learning activities.  The Kindergarten curriculum provides a strong foundation for the acquisition of all academic skills.
We invite everyone who is looking for a loving kindergarten atmosphere to take a tour of our school! 
Please contact us at 562-430-6983 or by email (info@longbeachchristianschools.org) to make an appointment.
Daily Schedule
8:30 am – Noon Full Academic Program (for both full day & half day)
• Emergent literacy incorporating both phonics and literature
• Developing writing skills
• Hands-on/manipulative math
• Social Studies through block play
• Science experimentation
• Art and music activities
• Bible lessons and memorization
• Weekly chapel
Noon – 1:00 pm Lunch & Recess (for full day & half day may stay)
1:00 pm – 3:00 pm Enrichment Program (for full day)
• Monday – Music
• Tuesday – Arts/Crafts/Painting
• Wednesday – Physical Education
• Thursday – Cooking
• Friday – "Friday Fun" & Movement
Our kindergarten program is designed to meet the needs of individual families, whether you are interested in a half-day or full-day program, or need extended Day Care before and after the regular school day. (See sidebar for details.)
A key advantage of having the preschool, kindergarten, and elementary school on the same campus is that the older students value school traditions and take responsibility for helping younger children. The small school feel enables our students to make and maintain connections with their peers and students in other grades, as well as faculty and staff.
Contact Mrs. Witbeck – Assistant Administrator & Former Kindergarten Teacher
LABS Kinder Application
[See the Enrollment page for more information]